Download the 2019 Program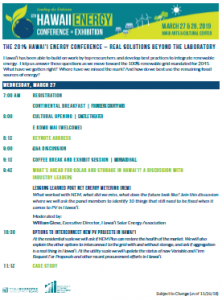 Please note program is subject to change.
Program at a Glance
Wednesday,
March 27

CONFERENCE OPENING & KEYNOTE

WHAT'S AHEAD FOR SOLAR AND STORAGE IN HAWAI'I?

Lessons Learned Post Net Energy Metering (NEM)
Options to Interconnect New PV Projects in Hawai'i

PERFORMANCE BASED REGULATION (PBR) AND OTHER NEW DIRECTIONS IN HAWAI'I ENERGY POLICY

Recent Initiatives by the Hawai'i Public Utilities Commission
Comparing Two Western States with High Levels of Renewable Energy

THE INTERPLAY BETWEEN FOSSIL AND RENEWABLE ENERGY IN THE REAL WORLD BETWEEN NOW AND 2045

Pitch Session for Bioenergy – What are the Business Opportunities Today?
Sustainable Air Tourism

EXHIBITION

NETWORKING RECEPTION

Thursday,
March 28

WELCOME TO DAY TWO

INVITED PRESENTATION

OPERATING ISOLATED GRIDS EFFICIENTLY WHILE BEING RESILIENT

Moloka'i as a Case Study
Complex Isolated Grids

COMPARING PATHS TO 100%

A Survey of Hawai'i
Clean Energy Leaders

UNLEASHING THE POWER OF CLEAN ENERGY IN HOUSING MARKETS

Lessons Learned from Building in Hawai'i
Does Energy Efficiency Still Matter?

EXHIBITION

CONFERENCE CLOSING

WOMEN IN RENEWABLE ENERGY (WiRE) PAU HANA*
*Separate Registration Fee Required. More Information Coming Soon.
Meet the Program Committee
Colton Ching | Vice President, Energy Delivery, Hawaiian Electric
Frank De Rego Jr. | Vice Chair, Conference Program Committee; Director of Business Development Projects, Maui Economic Development Board, Inc.
William Giese | Executive Director, Hawaii Solar Energy Association
Jonathan Koehn | Regional Sustainability Coordinator, City of Boulder
Dawn Lippert | Chief Executive Officer, Elemental Excelerator
Doug McLeod | Chair, Conference Program Committee; Member, DKK Energy Services, LLC
Jennifer Potter | Commissioner, Hawaii Public Utilities Commission
Frederick Redell | Energy Commissioner, Maui County Office Of Economic Development